We are sad the SERVICE Armenia 2020 trip won't be happening this year, but we wanted to still make a positive impact and continue with the project for this summer, renovating the Drakhtik Village School. In an effort to raise money for the SERVICE Armenia project, we will be holding a fundraiser with new SERVICE Armenia shirts!
Proceeds from this t-shirt fundraiser go towards the renovation of the Drakhtik School.
We are accepting donations of any amount.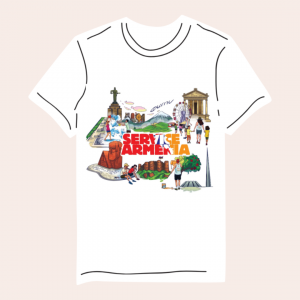 Why Drakhtik?
Drakhtik Village is home to almost 1,100 people, with 160 students who attend the school. It is located in one of the most isolated and poverty-stricken areas of Armenia's Gegharkunik region, along the northern shore of Lake Sevan. The village's school is in very poor condition. It needs to have seismic upgrades made to parts of the building, along with a complete interior remodel including the school's roof, windows, heating, plumbing, and electrical systems. This is a large project that we hope we will be able to begin this summer. Please consider supporting this important project with a donation of any amount.