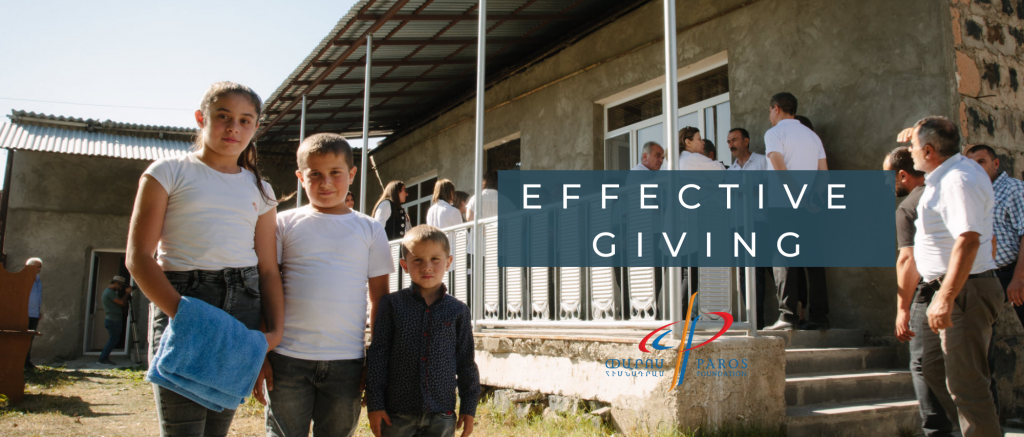 We are writing to ask for your urgent support to help us continue
our important work for the Armenian nation.
Our work continues throughout Armenia and Artsakh despite the raging pandemic and Azeri hostility. We are proud of the many accomplishments we have achieved this year including the resettlement of 12 displaced families from Artsakh into new homes in Armenia, with more to come; and the beginning of construction of three new homes in Artsakh for families in Stepanakert and Martakert. The completed renovation of the Artsvabert Kindergarten and the launch of the expansion and renovation of the Verishen Kindergarten will provide more than 100 new children early education programs in these two border communities. Economic opportunities and job creation were catapulted forward through the expansion of the Aygepar Business Incubator and the opening of the Hianali Beauty Center (a social enterprise and part of the Assarian Vocational Training Program at Debi Arach) in Gyumri.
While these significant accomplishments are making real world differences on the ground in Armenia, we must continue to help secure our borders and people by focusing especially on three program areas:
Rebuilding Border Communities
To help secure a vibrant border and to keep these communities both populated and able to take-in displaced Artsakh families, these villages must have basic infrastructure including schools, medical centers, kindergartens, homes, irrigation and drinking water. Since 2012, The Paros Foundation has rebuilt and significantly improved 12 kindergartens, three schools, five medical centers, and brought water to two villages. In addition, we have either partially or fully rebuilt 38 homes including 12 that were given to displaced Artsakh families.
In 2022 with your help, we hope to complete the expansion and renovation of the Verishen and Aygezor Kindergartens, the medical center in Akunk, and several additional homes for families in Artsakh, Aygepar, Medz Masrik and Nerkin Karmir Aghbyur.
Fighting Poverty in Gyumri
To break the cycle of what now amounts to generational poverty in Gyumri, both short-term humanitarian and long-term development programs are essential parts of the solution. Since 2012, The Paros Foundation has developed and is implementing programs to help end poverty in Gyumri. These programs include humanitarian solutions, such as distributing groceries, firewood (for heating and cooking), warm winter coats and boots and other clothing. Our Purchase-A-Home project has moved 25 families who were previously living in "domiks," into new homes. Longer-term solutions to fighting generational poverty include our work at the Debi Arach Children's Center and through the Assarian Vocational Training Programs. Debi Arach works with more than 180 children after school to meet both their humanitarian and developmental needs with a strong focus on academics. The Assarian Vocational Training Programs provide career planning for school-aged children, and free-of-cost job training and placement for young adults. This year, we successfully launched a social enterprise, the Hianali Beauty Center, to serve both as a high-end beauty salon and a hands- on training facility. These programs equip the next generation with the tools they need to work themselves and their families out of poverty.
With your help in 2022, Debi Arach will continue to make significant contributions to the lives of children in Gyumri, we will move families into new homes through our Purchase-A-Home project and we will continue to expand job training and placement efforts.
Economic Development and Job Creation
To help keep families together and combat economic emigration for work, local economic opportunities are critical especially in remote border communities. In 2018, The Paros Foundation launched the Aygepar Business Incubator. This Incubator is designed to provide residents with free space to launch their own businesses, and to create jobs. To date, the multi-story facility is housing a rabbit farm, fertilizer and a small-animal feed production. With ongoing renovations to the building, soon a bakery and commercial kitchen facility will be launched in the center. As a part of the Incubator, a fruit orchard and honey farm are operating off-site in neighboring villages. All these efforts are creating valuable jobs and economic opportunities to help secure these border communities.
With your support in 2022, our hope is to expand at the Aygepar Incubator to include a commercial kitchen, increase the number of hives at the Honey Farm, develop export markets for local production, and create a large fruit and vegetable storage refrigeration facility.