Since 2013, The Paros Foundation's SERVICE Armenia program has taken young people ages 17 to 22 to Armenia for a month-long service and tour program. Due to unforeseen circumstances, Paros had to sadly cancel their 2020 trip, but couldn't keep their young and eager future participants away for long. Paros returned to Armenia this summer with 12 participants for yet another life-changing and successful SERVICE Armenia trip.
 "SERVICE Armenia connects young people from throughout the United States to one another and to the homeland in a meaningful and lasting way. I am so happy we were able to offer this summer's program in a safe and successful manner."
-Peter Abajian, Executive Director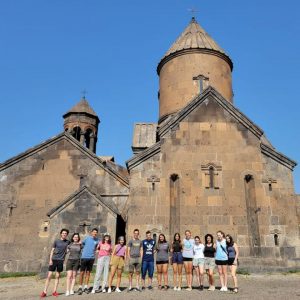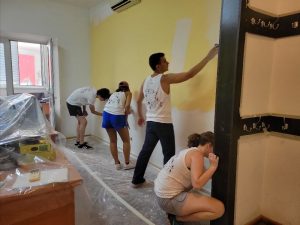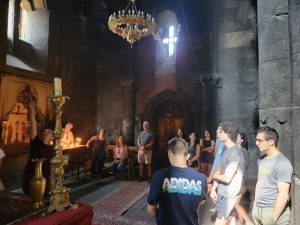 Although this year's program was only for a two-week period, the SERVICE Armenia group accomplished an amazing amount of service work. The group worked on painting the Ghoghanj Children's Center, an organization The Paros Foundation supports in Yerevan and refurbishing and painting the outdoor playground at the Kindergarten & Preschool in the village of Paruyr Sevak. The group implemented orphan excursions for children from the Yerevan Children's Home and the Kharpert Home for Special Children. They assembled food packets and distributed them to 50 impoverished families, as a part of our Groceries for Gyumri project. The group also spent the day at the Debi Arach Children's Center during which they helped teach the children American Football as a part of the American Summer Grant awarded to the center.
Alongside the SERVICE Armenia program, The Paros Foundation hosted their medical mission, Med-Aid Armenia, this summer with the leadership of Kaiser Permanente Pediatrician, Dr. Kirkor Deramerian. He was joined by three SERVICE Armenia participants interested in the medical field to help conduct basic eye, ear and physical exams at the Kentron and Nor Nork Ghoghanj Children's Centers, the Paruyr Sevak Preschool & Kindergarten and the Debi Arach Children's Center.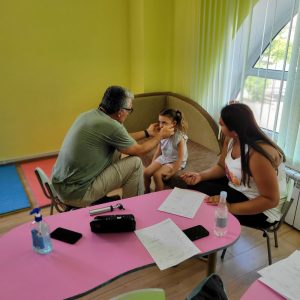 "Armenia is struggling, and working hard, to meet the needs of its people. We must all do our part as Armenians, and citizens of the world. Med Aid Armenia worked to do its part by helping give kids & families access to the most important and basic need: Health. With this, they can have an opportunity for a healthy and successful future."
-Dr. Krikor Deramerian.
Due to overwhelming interest from young adults and professionals to join SERVICE Armenia, The Paros Foundation has decided to host their first ever SERVICE Armenia Young Professionals trip this fall! This program is open to participants 24 years of age and older and will include professional opportunities and official meetings in addition to tours to historic, religious and cultural sites in Armenia and service work on Paros projects. The program has English speaking staff and guides, safe and well-located accommodations and transportation combined with interesting cultural and educational activities that will ensure all will have an engaging and memorable experience.
Applications are available on The Paros Foundation's
website www.parosfoundation.org. Participants need not be of Armenian descent; the program is open to everyone. Knowledge of the Armenian language is not required. Join us and create a lifetime of great memories and friends. The deadline to submit the completed application is September 15, 2021. Contact Peter Abajian at
(310) 400-9061 for more information.