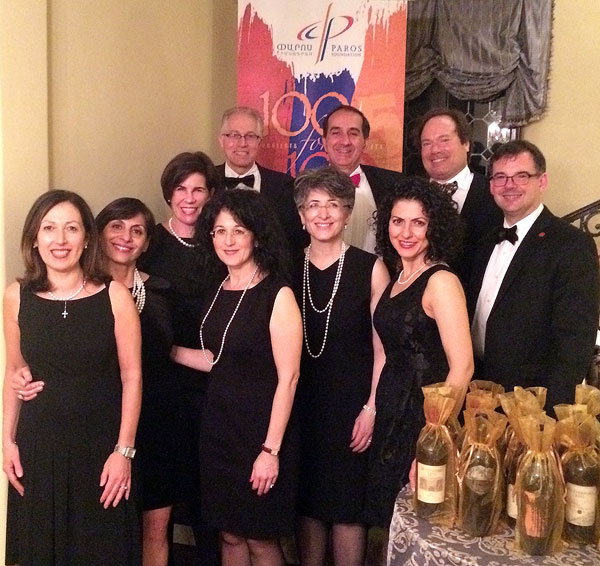 Proceeds to Benefit Verin Tsakhkavan Medical Center and the Ghoghanj Children's Center
San Francisco, CA–On January 24, 2015 The Bay Area Paros Committee hosted their 2nd annual wine tasting fundraiser. The Sip, Savor and Share event raised funds for two important Paros 100 for 100 Projects for Prosperity; the creation of a math and science lab at the Ghoghanj Children's Center and the reconstruction of a medical center in the village of Verin Tsakhkavan located in the Bert area of Armenia's Tavush Region.
Proceeds from a similar fundraising event in 2013 were used to renovate the Kurtan Medical Center, and several committee members visited Kurtan for its official opening in June 2014. "The committee was excited to be able to raise funds for yet another medical center in Armenia. Witnessing the positive impact of a fully functioning medical clinic on the residents of Kurtan increased our sense of urgency to support more medical projects like Verin Tsakhkavan," said Bay Area Paros Committee Member, Valina Agbabian. The residents of Verin Tsakhkavan live in a remote and isolated area. Their medical center serves more than 800 patients annually including more than 200 children. The medical center will be partially reconstructed including heating and water installation and will receive updated equipment and medical supplies to better serve their patients.
Proceeds from this year's wine event will also fund the creation of a math and science lab at the Ghoghanj Children's Center in Yerevan. The goal of the math and science lab is to provide after school science and math enrichment for at risk children who do not otherwise have access to such classes. The lab will be equipped with science lab supplies, and proceeds will also pay the salary of a science teacher. There will be computer science classes and math tutoring. Hopefully, these enrichment opportunities will both stimulate creativity and provide necessary skills for these children to be successful. "My wife Wendi and I are pleased to participate in an effort to expand upon the important work of the Ghoghanj Children's Center with this science lab," said Rubik Moradian, Bay Area Paros Committee member and key event sponsor.
Fifty guests spent the evening tasting French, California and Armenian wines at the home of Roger Strauch and Julie Kulhanjian. Rubik and Wendi Moradian generously donated the French and California wines. Armenian wines were also featured and included wines from ArMas winery, which donated their wines, and wines from Zorah and Karas. Later, sauternes and the ever-popular Ararat Nairi cognac were served with desserts and cheese. Paros Committee members worked and prepared delicious food to complement the excellent wines. Professional sommelier Michael Perry provided a particularly wonderful flair to the evening's wine tasting and the silent auction that followed. Bay Area Paros Committee members include Valina Agbabian, Suzanna Cogswell, Laura Conrow, Rita Kablanian, Martha Missirlian, Rick & Wendi Moradian and Julie Kulhanjian Strauch.
During a short formal presentation, Roger Strauch, Paros Foundation Founder and Chairman, welcomed guests, recognized organizations, supporters and friends, and presented the Foundation's vision for the future. Guests also learned more about The Paros Foundation and its projects, the foundation's future goals and volunteer opportunities from Executive Director, Peter Abajian.
Donations to The Paros Foundation, a 501(c) 3 organization, are tax-deductible to the fullest extent allowed by law. The Paros Foundation underwrites all administrative expenses associated with both projects allowing all contributions to be allocated 100% to these projects.
Formally launched in 2006, The Paros Foundation supports six exemplary local NGOs in Armenia and launched the Paros 100 for 100 Projects for Prosperity in October of 2011 to commemorate the upcoming centennial of the Armenian Genocide. With an aggressive goal of identifying, vetting, fundraising for and ultimately implementing 100 special projects, The Paros Foundation and its staff in Armenia and the United States are quickly earning a reputation as the "go to" organization to oversee small and medium-sized project implementation in Armenia.
To sponsor a Paros 100 for 100 Project for Prosperity or to find out how you can help fundraise, please visit  www.parosfoundation.org.