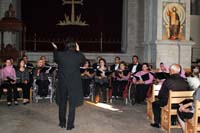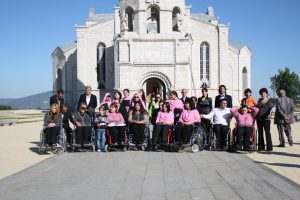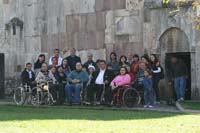 The Paros Chamber Choir Tours Artsakh
This October was remarkable in the rich history of the Paros Chamber Choir. The Choir, with support from the Ministry of Culture of Armenia, Ministry of Culture of the Nagorno-Karabakh Republic and the Paros Foundation, held its first concert tour in Artsakh.
In Gandzasar, Paros was warmly welcomed by the local residents and the Priest. After a joint prayer, the choir performed several spiritual songs from its rich repertoire. The official part of the concert tour was started by a performance in St. Ghazanchetsots Church, Shoushi, where the choir performed a capella a dozen songs.
'The mountains, green forests and our echoed songs at churches enriched our souls with beauty and joy," says Raffi Mikaelean, Artistic Director and Condutor of Paros.
The final event of the tour was a concert at the Culture Palace in Stepanakert. This performance was also very successful. Although the Paros Concert lasted for almost two hours, the audience which included dozens of music fans, patients of the Lady Cox Rehabilitation Center, officials, and foreign guests, still demanded, "Encore, encore!"
"It is so important that the Ministry of Culture appreciates our choir," says Armen Alaverdyan, Managing Director of Paros. "We were delighted to visit Artsakh and performed there. The choir members are looking forward to new opportunities to perform in this part of our Homeland."