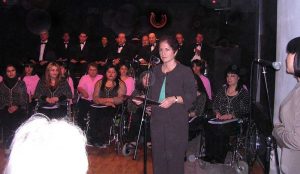 The Paros Chamber Choir performs for Daniel Pearl World Music Days
On 26 October 2009, the Paros Chamber Choir performed at the Naregatsi Art Institute in Yerevan as part of the Daniel Pearl World Music Days. The US Ambassador in Armenia, Marie L. Yovanovitch attended the event and offered her remarks. The program included songs by Komitas, E.Hovhannisian, T.Mansurian, H.Odabashian, K.Zakarian, I.Stravinsky, D.Bortnyansky, G.Faure, and L.Spevacek. The audience was truly inspired by the highly professional and emotional performance of Paros.
This concert organized by the U.S. Embassy in Armenia and the Naregatsi Art Institute was part of Daniel Pearl World Music Days, an annual global event affirming the ideals of tolerance, friendship and our shared humanity. World Music Days is inspired by the life and work of journalist and musician Daniel Pearl, who would have celebrated his birthday on October 10th. Wall Street Journal reporter Daniel Pearl was kidnapped and murdered in Pakistan in 2002.
Paros, the award-winning Armenian choir mostly consisting of disabled singers, joined people around the world in a tribute to all the visionary men and women who use the power of music to lift peoples of different backgrounds and beliefs above the differences that set us apart. Through their music, the Paros singers reaffirm their conviction that humanity will triumph and harmony will prevail.