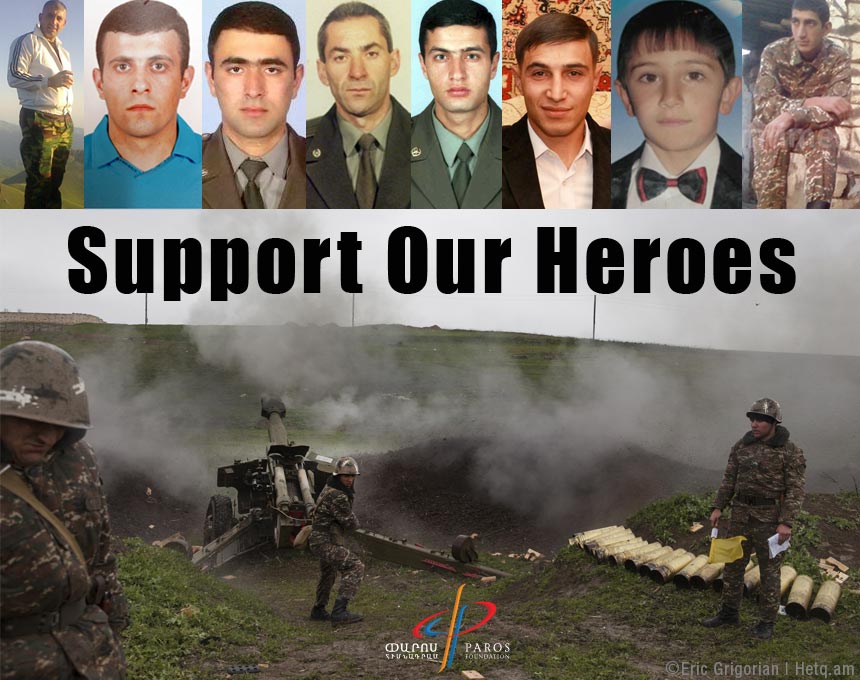 As a result of the aggressive military attack by Azerbaijan along the front line of contact with the Nagorno Karabakh Republic, according to up to date reports, at least 20 Armenian soldiers from the Artsakh Defense Forces and local civilians including a 12-year-old boy have lost their lives and more than 70 people are wounded including two additional children. Our community must mobilize and do what we can to support an immediate cease-fire and support for these heroes, who have died defending our Nation.
For our part, The Paros Foundation has launched a Hero Support Fund to raise funds and provide them to the families of our deceased heroes. Our goal is to provide a minimum of $1,000 to every hero's family. While these funds will no where near address this tragic loss of life, nor ease the grief of our hero's families, it will provide them a bit of relief during these difficult times. As with any of our projects, 100% of your donation will be used to support this project without any administrative costs. Funds will be distributed as quickly as possible to the grieving families of these heroes.
Donations can also be mailed to our office address as follows:
The Paros Foundation
2217 5th Street
Berkeley, California 94710
ABOUT THE PAROS FOUNDATION
Formally launched in 2006, The Paros Foundation and its staff in Armenia and the United States have earned a reputation as the "go to" organization to oversee small and medium-sized project implementation in Armenia.  Beginning with our support for seven exemplary local non-government organizations working with children, people with disabilities and the arts, the foundation works towards helping build a sustainable and vibrant homeland while improving living conditions for its most vulnerable populations.
With an aggressive goal of identifying, vetting, fundraising for and ultimately implementing 100 special projects, The Paros Foundation launched the Paros 100 for 100 Projects for Prosperity in October of 2011 to commemorate the centennial of the Armenian Genocide.  Following the successful completion of this initiative, the Foundation's leadership agreed to continue operating via this project-based model of philanthropy, and launched the "Paros Projects for Prosperity."
To facilitate volunteerism, The Paros Foundation launched its SERVICE Armenia program in 2013. This Armenia-based service program  provides participants an opportunity to travel to, and experience all that Armenia has to offer while helping make a difference.
Donations to The Paros Foundation, a 501(c) 3 organization, are tax-deductible to the fullest extent allowed by law.  The Foundation underwrites100% of administrative costs allowing all donor contributions to be allocated directly to the projects.
To learn more about the Paros Foundation or its projects or to sponsor a project of the Paros Foundation's Projects for Prosperity initiative, please visit www.parosfoundation.org or call (310) 400-9061.