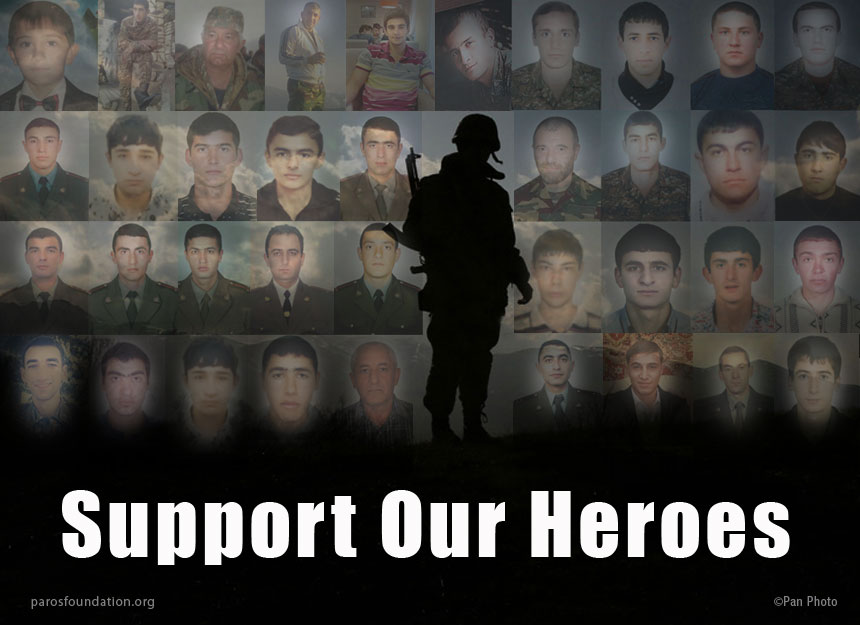 Dear friends,
I am writing to update you on the situation in Armenia and Artsakh.
As of today, 86 people have lost their lives as a result of Azerbaijan's aggressive and calculated military attack along the Nagorno Karabakh-Azerbaijan line of contact, April 2nd to the 5th. The current situation is tense, but stable. A cease-fire is in place, but the Azeris are still shooting with various caliber weapons every evening.  On April 3rd, in response to numerous inquiries from donors and friends, The Paros Foundation launched a Hero Support Fund to raise funds and provide them to families of our deceased Heroes.
Our goal remains to provide a minimum of $1,000 to each family of our Heroes. Armenians from 18 countries around the world (including Armenia, Australia, Austria  Belgium, Canada, Czech Republic, Egypt, Rep. of Georgia, Germany, Italy, Qatar, Russia, South Africa, Sweden, Switzerland, UK and the US)  have come together to support the families of our Heroes. Currently, we have raised almost $50,000 which will support 50 families. Funds will be distributed to the grieving families of our Heroes beginning in the next two weeks.  I am departing for Armenia soon to personally begin the process of delivering funds to our Heroes' families.
I would like to offer a very special thank you to Mr. Serj Tankian who has assisted with raising awareness regarding our efforts to bring a bit of relief to the families of our Heroes, along with the many other people who are also working towards this important goal.  We are humbled to be serving as a conduit to support the families of our Heroes. As with any of our projects, 100% of your donation will be used to support this project without any administrative costs.
Help us keep this effort strong until we have raised enough funds to provide each family with $1,000. We thank all of you who have already contributed.
We must mobilize and do what we can to stand in solidarity with the families of our Heroes, who have died defending their Nation. While these funds will not completely address this tragic loss of life, nor ease the grief of our Hero families, it will provide them a bit of relief during these difficult times and show them that the world cares about them.
Thank you and please contact me if you have any questions.
Sincerely,
Peter J. Abajian
Executive Director