As the Covid-19 Virus impacts people around the world, I would like to update the Paros community regarding the pandemic's effects on Armenia and Paros' work in the homeland.
To the best of our knowledge, our supporters, beneficiaries and
staff are safe and healthy.
Armenia has more than 700 cases of the virus. Seven people have passed away. Armenia is in the midst of a national stay at home order. Police are enforcing this mandate with the hope of containing the spread. All none essential work has stopped throughout Armenia including construction.
Our team is working from their homes and respecting the seriousness of this pandemic, while strategizing and planning for the lifting of the stay at home order. At the Debi Arach Children's Center in Gyumri, we have committed to continue paying our staff during the closure, our on-staff psychologist is checking in with the children regularly, and we are providing food packages for all families of Debi Arach with guidelines on safety protocols for receiving and cleaning the delivered items.
In the United States, The Paros Team is also respecting the stay at home order and are preparing for the future – Armenia will need our support more than ever, once this virus impact subsides. We continue to accept new contributions, new project submissions and inquiries.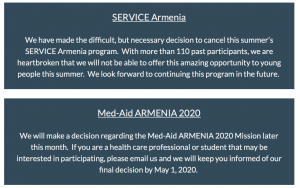 Thank you for your continued support and confidence in our work.  For more information about the ever deepening and broadening of our activities, please contact me directly at (310) 400-9061 or via email peter@parosfoundation.org.
Please…stay healthy and be cautious,
Peter J. Abajian
Executive Director