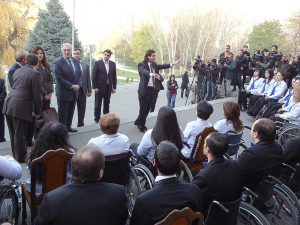 On December 2, Chairman of the RA National Assembly Hovik Abrahamyan received world-renowned singer Placido Domingo.
In honor of the famous tenor's visit, before the meeting, the "Paros" chamber choir of the disabled performed songs by Komitas at the patio of the National Assembly. The Spanish tenor thanked the choir members and mentioned that he was impressed by the reception.
"This was a surprise for me," said Mr. Domingo. Hovik Abrahamyan surprised the choir members by inviting them to take part in the tenor's concert tomorrow, while Placido Domingo offered the choir to perform with him on stage.
After the performance, NA Chairman Hovik Abrahamyan and Placido Domingo held private talks.
Greeting the talented artist, Hovik Abrahamyan said the maestro's visit is an exclusive event in Armenia's culture. The NA Chairman mentioned that the great singer has many fans in Armenia and this is the best opportunity for them to hear high-quality classical music. Hovik Abrahamyan offered Placido Domingo to visit Armenia again and give a joint concert with his colleagues, including Charles Aznavour.
Placido Domingo expressed gratitude for the reception and mentioned that it was a great honor for him to be in a country with a centuries-old history and traditions and perform in front of an Armenian audience. He accepted the NA Chairman's invitation to visit Armenia again and perform with Charles Aznavour with pleasure. The world-famous tenor also mentioned that he heads the "Our Europe" Association, which is involved in restoring and preserving world cultural heritage and expressed willingness to include the best historical-cultural values in the list of the association.
Source: A1plus.am