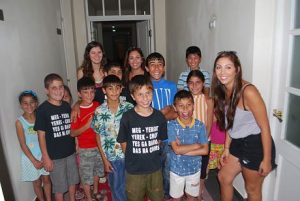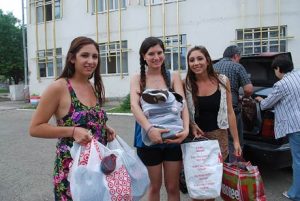 Beverly Hills, CA—Imelda Marcos, Philippine President Ferdinand Marco's widow, refuted her reputation of excess by saying "I did not have 3,000 pairs of shoes, I had 1,060."
While some dream of having that many pairs of shoes to choose from each day, many children in Armenia lack the basic necessity of a simple pair of sturdy shoes. The Share-a-Pair project of The Paros Foundation (www.parosfoundation.org) recently completed the distribution of 500 pairs of shoes to children in need in Armenia.
"This trip we focused our distributions on school shoes and winter boots for children at four of Armenia's orphanages in and around Yerevan, Gavar and Vanadzor," said Kristen Abajian. "It was really fulfilling to see the end result of our efforts. These children will now have a decent pair of shoes to wear to school. Early next year, we hope to have secured enough support to begin distributing shoes to needy children in the villages and other regions of Armenia."
"The need for shoes for children is pretty much never ending, both because of the extreme change of seasons and the fact that these children are growing." Said Bridget Abajian.
South Bay Chapter Founder Sofia Dilsizian commented, "The donors and supporters that met our request for funding and shoes made this effort possible and deserve a lot of thanks."
"No one needs 1,060 pairs of shoes," said Kristen Abajian, "but every kid needs a single pair of dependable shoes or boots. My goal is to make sure that no child goes to school without a decent pair of shoes on their feet."
Share-a-Pair is able to purchase one quality pair of shoes for $10. Donations are welcomed in any amount. 100% of the proceeds will be spent buying new shoes. Donations of new practical shoes in all sizes are also appreciated and welcomed. Donations are tax deductible to the fullest extent allowed by law.
For more information, please visit "http://www.paros-foundation.org/shareapair" or look for us and follow us on Facebook, search for "share a pair".
Kristen and Bridget Abajian founded share-a-pair as a direct result of their experience living in Armenia and their subsequent visits seeing the difficult conditions of many of Armenia's needy children and orphans. Sofia Dilsizian immediately joined the effort and founded the first
Share-a-Pair chapter in the South Bay area of Los Angeles. Kristen, Bridget and Sofia have been friends since they were each three years old. All are currently high school seniors.