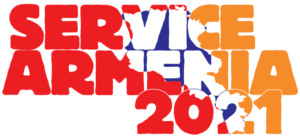 We are thrilled to announce that SERVICE Armenia 2021 will be happening this summer! In addition to our traditional trip, we have added two sessions for participants ages 24-45. All the SERVICE Armenia trips will be two week sessions during the following dates:

June 30th – July 18th, 2021
This trip will be two weeks with the same programming as past years. Participants aged 17-23 will serve, tour, and play in Armenia. Participant fees are $1,450 per person including a $300 charitable contribution, not including airfare.

Summer: July 16th – August 1st, 2021 Fall: October 15th – October 31st, 202
This new trip is created for young professionals who want to tour Armenia while participating in service work with other young adults. We can work with participants to engage in Armenia within their professional areas as well. For example, a teacher can spend a day at an Armenian school volunteering. Participant fees are $2,100 per person for single occupancy or $1,650 per person for double occupancy (including a $300 charitable contribution towards defraying service project costs), not including airfare.

If you have any questions about our SERVICE Armenia 2021 program please call Peter Abajian, Executive Director at (310) 400-9061 or contact him via email pabajian@gmail.com.
Covid 19 Protocol Applicants are strongly encouraged to participate only if they have been vaccinated against Covid-19. The healthcare system in Armenia is overwhelmed and therapeutic treatments may not be available if you contract Covid 19. If you become ill with Covid 19, please note you will be quarantined at your own expense and will not be able to participate in the SERVICE Armenia program, and your fees will not be reimbursed. A clear PCR test result will be required upon arrival at the airport in Armenia (if you have already not taken one within 72 hours of your departure.)