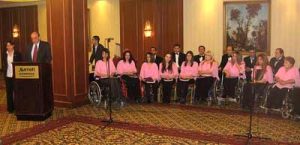 PAROS CHAMBER CHOIR PERFORMS CONCERT REMEMBERS SLAIN JOURNALIST DANIEL PEARL
Yerevan, Armenia—On Tuesday, October 9, 2007 more than 100 people including representatives of Armenia's media corps joined Ambassador Rudolf Perena, Chargé d'Affaires of the United States Embassy in Armenia and friends of the Paros Foundation at the Armenia Marriott Hotel in Yerevan to commemorate the 5th Anniversary of slain American journalist Daniel Pearl with a concert by the Paros Chamber Choir.
The Harmony for Humanity Concert featured works by such renown composers as Komitas, Altunian, Vivaldi and Harutyunyan, and were well received by the enthusiastic audience.
The Harmony for Humanity Concert was underwritten by a grant from the United States Embassy in Yerevan and the reception was sponsored in part by the Paros Foundation. The concept for the Daniel Pearl Day of Music and the Concert Series was inspired by the life of Daniel Pearl, who was murdered by terrorists in 2002 in Pakistan. Music Days connects thousands of diverse groups, using the universal language of music, to diminish hatred, respect differences and inspire "Harmony for Humanity."
Ambassador Perina during his opening remarks spoke of how the concept for this series of international concerts began as a result of an Armenian. "It is fitting that this event takes place in Armenia, as it was Daniel Pearl's Armenian American friend, George Pehlivanian, who, the day after the world learned of Daniel's death, directed the Israeli Philharmonic Orchestra in Tchaikovsky's Symphony No. 5 as a tribute to Daniel's life." Music becomes the best way to recognize Daniel Pearl. This successful tribute ultimate inspired the Daniel Pearl Foundation to sponsor concerts around the world.
"It was such an honor for the Paros Chamber Choir to be asked by the U.S. Embassy to perform here today to honor Daniel Pearl and perform for Armenia's media corps." Said Paros Chamber Choir Musical Director Armen Alaverdyan.
Since 1993, the Paros Chamber Choir has dazzled audiences throughout Armenia, the Middle East and Europe with their repertoire of classic chamber music and ethnic folk music by Armenian, Russian and Western composers. The Paros Chamber Choir has blossomed into a beacon of hope for people with disabilities in Armenia as most members of the Choir are individuals with spinal cord injuries.
The Paros Chamber Choir takes its name from the Armenian word for lighthouse. Indeed the choir is seen as a beacon of hope and artistic excellence by fans around the world. The Choir entertains worldwide audiences, participates in international competitions and encourages people with disabilities to live full and active lives. More information about the Paros Chamber Choir and the Paros Foundation can be found at www.paros.am or www.paros-foundation.org.