Press Releases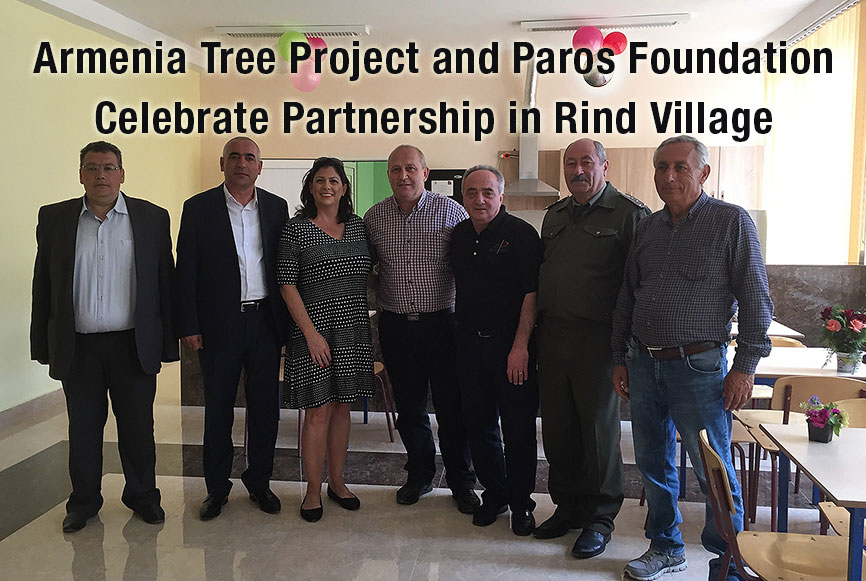 RIND, Armenia–May 25 was a special day in Rind, a beautiful village in Armenia's southern wine region of Vayots Dzor, as students, teachers, and families gathered to celebrate "last bell" marking the end of the school year.Representatives of Armenia Tree Project (ATP) and The Paros Foundation were also there to celebrate the successful completion of their joint project at the primary school, which included a renovation of the school's kitchen and cafeteria, the planting of more than 500 trees, and the introduction of ATP's environmental education curriculum at the school.
"Our goal was to work together to significantly improve conditions here in Rind," explains ATP Executive Director Jeanmarie Papelian. "The partnership between Paros and ATP has made a huge difference for the benefit of the children. We hope to repeat this success story by partnering with Paros to help other villages in the future."
Funds to support this project were raised from an enjoyable sold-out benefit event in November at Almayass in New York. The event's organizing committee consisted of Anahid Ugurlayan, Hooshere Bezdikian, Lisa Sarajian, and Nicole Vartanian, who worked tirelessly to ensure the event not only was enjoyed by all, but also met the financial goal.
As a result of the generous support of the guests, Paros completely renovated and furnished the school's kitchen and cafeteria, allowing the school to prepare hot meals for the children.
ATP planted more than 500 trees and shrubs at the site and introduced its "Plant an Idea, Plant a Tree" environmental education curriculum at the school. The tree planting was initiated the day after the New York benefit event, with the remainder of the work completed this year.
"The decision to partner with Armenia Tree Project to address the needs at the school in Rind was not only successful, but inspirational. During our construction process, we literally witnessed the enthusiasm at the school with staff, students, and villagers rallying around the new trees and their future potential," said Peter Abajian, Executive Director of The Paros Foundation. "This partnership is clearly the right way to build community support to solve a problem and I look forward to the next community we are able to work in together to put smiles on more villager's faces."
To learn more or to support either organization, please visit www.armeniatree.org and www.parosfoundation.org.