Unison NGO was founded in 2002 and is among the most effective non-government organizations in Armenia. Their goal is to serve and improve the lives of people with disabilities in Armenia. Since its inception, Unison has aggressively designed and implemented many projects and programs for people with disabilities.
With the goal of allowing people with disabilities to lead an independent and productive life, Unison provides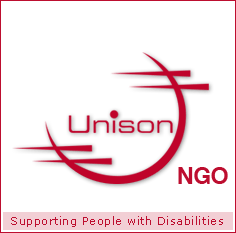 several services including art and computer training, legal advice and psychological aid. The organization also provides job training and placement services. Working together with The Paros Foundation, more than 15 employees with disabilities were hired at Vivacell, MTS. In December 2006, Unison launched Armenia's first Center for Independent Living (CIL). In 2007, they established their first regional branch in Meghri, Syunik Region. The Employment Center for people with disabilities was officially launched and began operation in May, 2008.
Unison regularly implements accessibility monitoring of cultural centers, polling stations, courts and other public facilities. Beginning in 2007, Unison regularly participates in election monitoring to ensure people with disabilities have access to polling stations.
The National Assembly and Government of the Republic of Armenia (RoA), RoA Ministry of Labor and Social Affairs, RoA Human Rights Defender, State Employment Agency, Municipality of Yerevan, local NGOs and DPOs, the mass media, various international donor organizations and other major stakeholders acknowledge Unison as the lead organization in promoting and protecting the rights of persons with disabilities in Armenia.
The Paros Foundation works to support the work of Unison by providing rent free, modern and fully accessible office space and $6,500 in program funding. In addition, The Paros Foundation underwrote the costs associated with the redesign and redevelopment of their website www.unison.am.
Society, often times, creates barriers for people with disabilities based upon misconceptions and preconceived notions about a person with a disability. Unison NGO was established in order to help people with disabilities to lead an independent and productive life.
Your donation to sponsor Unison NGO will be recognized on all relevant press, The Paros Foundation and the Unison NGO websites. Meetings and a tour of their center can be arranged for sponsors visiting Armenia.
Be the first to become a sponsor by donating to this project