Girls of Armenia Leadership Soccer (GOALS) is the only NGO working in several regions of Armenia to use sports for education outside the classroom. Girls who play sports exhibit higher confidence levels, better mental health, improved teamwork and communication skills, increased graduation rates, and leadership skills. GOALS directly impacts more than 2,300 girls and boys in 65 communities.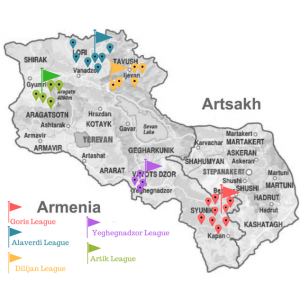 ● Girls Soccer is taking off in Armenia!
● GOALS is growing by 50% annually with over 400 girls now in our leagues
● Everyday more girls ask us to play…WE NEED YOUR HELP!!!
Help us continue reaching and empowering more girls in Armenia to move the country forward. Our youth are our future!
Thank you to all our donors, we have met our fundraising goal.
Read our stories and find us on Facebook:
Suzy, 13 years old, Dilijan
"I have no other hobbies aside from football. My father didn't agree with my football playing, but I talked to him and explained that I should try different things to understand what I want. Well, he was against it again, but as he loves me very much, he agreed. Due to football I became more focused not only in football, but also in other issues. I can solve any problem easier and swifter because I have already learned how to think in different ways and also in my everyday life."
Liana, 13 years old, Margahovit
"People told me that football isn't for girls, that it is difficult, but I thought that I must try and if I am not good it doesn't matter, I will start to do something else that I am better at. During the game there are moments when I must be courageous and go for the ball, understanding that on the way someone can push you. The courage of girls in playing football is a revolution and I am part of that revolution."
Karine, 13 years old, Dilijan
"Karine and her friend Suzy have been attending football classes for a one year and breaking all the stereotypes. According to Karine, if she dreams to become a footballer her gender never and under no circumstances can prevent her from reaching her dreams and becoming a famous footballer, to playing with football stars and to traveling a lot."
Anahit, 17 years old, Dsegh
"I always pursued football as a hobby but when I joined the Alaverdi league I started to take soccer seriously and love it more. Through soccer my teammates and I are able to break through the stereotypes of the masses and we are happy we aren't underestimated. Even though my team did not win the league I cannot imagine my future without soccer. What doesn't kill you makes you stronger! Due to GOALS I have become freer, more confident, and I feel that I am equal to boys."
Sponsor a League- $3,000 (annually)
GOALS leagues are designed to give young women aged 12-17 from under-resourced areas the chance to play soccer and build confidence and teamwork skills, as well as change public perception of women's participation in sports. Each team is headed by an Armenian coach, who signs a contract committing to one year of training their team a minimum once-per-week during the season for one hour per session. Teams travel and play one competitive game per week. Sponsoring a league covers all travel costs, referees, nurses, and venue space, and all the equipment needed to hold training sessions: jerseys, socks, footballs, cones, and pinnies for an entire league. Currently, we have leagues in Yeghegnadzor, Alaverdi, Goris, Dilijan and Artik.
Sponsor a Camp – $1,500
GOALS leadership summer camps are implemented in areas where GOALS hopes to operate on a longer-term basis, in order to excite the community and motivate the girls to continue playing soccer. Our summer camps are 3 full days and each day consists of sport-for-social-impact games that address gender equity, tolerance, diversity, human rights, and whatever issues the community is facing. Technical drills, a leadership seminar including inspiring local guest speakers and a nutritious lunch follow the sessions. Camps bring together communities whose residents often don't interact and spark the interest that leads to more GOALS programming in the region. This year GOALS will have camps in Kotayk, Gegharkunik, Lori and Syunik regions.
Sponsor a Team – $500​
Teams are designed to help girls build new friendships, teamwork, and skills to compete. Teams have the opportunity to travel to Yerevan and participate in cross-cultural events. Each team needs coaches and equipment and to cover costs of travel. We currently have 36 teams and will be creating at least ten in the coming year. Sponsoring a team supports these needs for two full seasons/one year.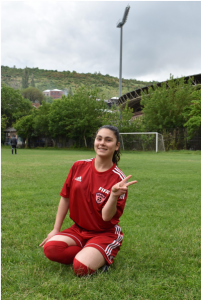 Sponsor a Player – $50
Sponsoring a player is an easy way to make a big impact through a small donation. This donation will pay for one girl's uniform, socks, and travel to competitive games.
GOALS has already received a grant from World Vision for part of this program. The overall budget of this project is $11,500 of which GOALS still needs $7,500.
All donations for this fundraiser help GOALS bring a soccer league to the girls in Gegharkunik, which will become our seventh league. Before GOALS came into the picture, several coaches in Gegharkunik wanted to create soccer teams but were denied funding from local sources. Bringing our resources to Gegharkunik through your generous donations will:
● Allow more than 80 girls and coaches from the Gegharkunik region to participate in a sustainable girls' soccer league.
● Cover all costs related to travel, referees, nurses, and venue space, and all the equipment needed to hold training sessions: jerseys, socks, footballs, cones and pinnies.
● Permit girls to travel to Yerevan to be a part of competitive matches and cross-cultural events, introducing local youth to diaspora Armenians and exposing participants to different perspectives and ideas, and broadening their horizons.
● Support a three-day summer camp to bring together 48 youth from six different communities.
● Support tournaments between the regions to motivate girls to increase their soccer skill levels and increase their confidence in participating in tournaments outside of their region.
● Support activities related to the World Cup during the summer camps within the dates of World Cup to raise awareness about the countries and teach teamwork skills to the participants.
● Empower a new generation of leaders to take New Armenia forward by creating a network of strong girls in the region and allowing them to build new friendships, teamwork, and skills to compete.
GOALS needs supporters of every kind. They want donations, fundraiser sponsors, and volunteers. If you are interested or have questions about where and how GOALS works you can contact them directly at Lorik@goalsarmenia.org.
Throughout Armenia, there are limited opportunities for girls to play soccer. Despite having a strong desire to do so, girls cannot find the resources necessary or sporting groups that make experiencing the game a possibility. In addition, organized sport participation has several benefits to youth development such as leadership skills, teamwork skills, confidence building and improved overall physical health. The GOALS organization helps give young women the chance to play soccer through their GOALS Leagues, Summer Camps and After-school Clubs.
In 2017 GOALS impacted 2,000 youth through their leagues, camps, and After-School Clubs. We witnessed an increase in these girls confidence, recorded an increase of parents who approve of their daughters playing soccer, and a spike in the belief that girls can be leaders. With your investment GOALS wants to launch a new league in the Gegharkunik region, which will become their seventh league.
In the long-term, public opinion regarding girls' participation in soccer is changing, paving for the way for greater sports and leadership opportunities. We see a movement toward more inclusive soccer leagues that start at a young age and continue, also contributing to a competitive National Team for Armenia.
Sponsors of this project will be recognized on The Paros Foundation and GOALS websites, at the camps and in all press related to this project. The GOALS organization will also begin sending updates through their newsletter in which they will also thank and recognize sponsors. In addition, GOALS will send personalized team photos and progress reports to sponsors of leagues and/or teams.
MD
Mr. & Mrs. Brett & Krsiten Donelan
Garden City, NY
MM
Mr. JD Martin
MA, United States
BF
Badishkanian Family
New York, NY
MI
Ms. Elina Tunyan - Garni, Inc.
NY, United States
MY
Mr. Jose Yearwood & Mrs. Christine Serdjenian Yearwood
Astoria, NY
MS
Miss Lily Shahnazarian
NY, United States
View More Sponsors
Updates: Images & Information
From the GOALS TEAM: "Thank you for all the support so far! GOALS couldn't grow without the support from people like you. Because of this support, GOALS successfully opened our Gegharkunik league, with 56 girls across the region. We can't wait to see their growth and the results from our fall leagues."